I spent the last few days shooting waterfalls, wrestling, and most recently the Toronto Auto Show. With such diversity, I knew I would have something to make a post about.
Turns out, there are several experiences I've had that would make for a good post... So, I will be posting them each over the next short while.
Today's post will be about my experience at the Auto Show.
Ross Chevalier and I made our way to Toronto yesterday as we've done many times in the past but as I got in the car I realized I had left my tripod (The Rock) at home! Usually I will carry it all over the place, setting the camera down low and at a funky angle to make the cars look big and impressive. Without The Rock I had to think differently and not go for those small apertures (for deep depth of field and maximum focus) but rather shoot all handheld with higher ISO and larger apertured to try and keep the shutter speeds fast enough to eliminate the motion blur. Or did I?
I have worked with motion and zoom blur in the past so I am quite comfortable with creating images that have sharpness and motion but usually Id bring an external flash to give me the light I'd need to create the sharpness then with a slow shutter speed I would zoom or move the camera to make the blur..... Well, I didn't bring the flash with me either! I got all wrapped up in the whole... "Travel light" concept and left everything at home!
So What is a guy to do in this case?! Use the built in pop up flash! I knew I was close enough to the cars that a pop up could work so I put the built in flash to manual mode (Not TTL) and fired it from full power down to 1/4 power at times, depending on the brightness of the car I was shooting and how much light would hit the car and reflect back to the camera.
Well, I had a blast! I made some really unique images and had a lot of fun but more importantly, I gained experience! Working with this technique had me changing settings with each shot and trying over and over until I got the desired effect for each amazing vehicle I shot.
In fact, I made so many cool shots, Ill add them as a gallery here rather than just post one of them.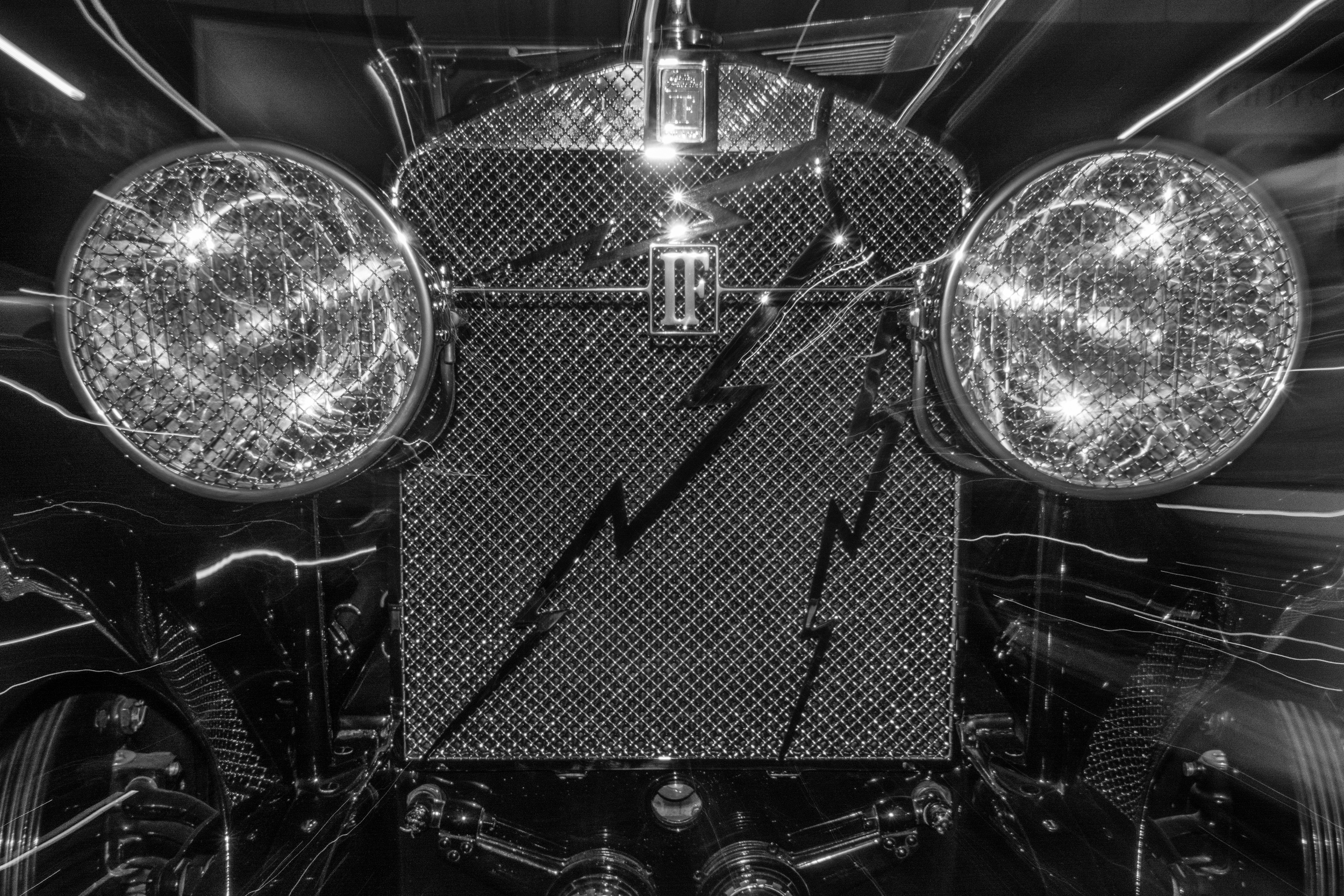 The equipment I used was my regular kit... The Schwartz (My trusty Nikon D7100) with a 10-24mm Nikon lens. I did bring the 105 macro and a 50mm 1.8 but ended up not using them for much because I was having so much fun working the blur that I didn't need them.
The technique was simple... I shot between 1/10 and 1/30 shutter speed and had the pop up flash up. First, I would get my focus and then as I squeezed the shutter button, I would zoom from wide to far or from far to wide... depending on if I wanted the vehicle to look like it was coming towards me or going away from me. This combination of settings and technique made the shots look awesome on Schwartz's LCD but I always reserve my judgement until I see the photos on the mac. Well, I was pleasantly surprised to see how awesome the turned out when I loaded them up at home. A slight edit and I loved the majority of the shots I made. I even zoom blurred the DJ as the Scion display. I thought it would lend well to what he was doing and it did!
I hope you enjoy this gallery of photos and feel free to reach out to me to ask any questions you may have!
To learn more about how to use your camera and to get the support of a fun online community, join the Daytripper Photo community on Google Plus or register for any of our upcoming photo day trips!